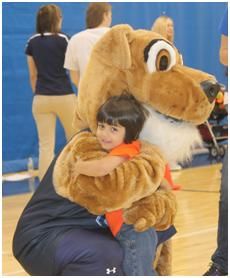 Kean University's Department of Occupational Therapy (OT), in collaboration with the special education, Young Athletes Program (YAP) aims to introduce children with intellectual disabilities to the world of sports. 
YAP is designed for children ages 2 ½ to 7, and serves as the foundation for play, fun and future participation in the regular Special Olympics program for people ages 8 and older.
The annual one-day event is facilitated by graduate occupational therapy students, as well as other Kean student volunteers and atheltes, under the supervision of Dr. Mary Falzarano, assistant professor and licensed occupational therapist.
The ultimate goal of the event is to assist the young athletes and their families to navigate eight sports activities that target specific basic gross motor and visual-perceptual motor skills necessary as a foundation for the child's main occupation – play. Children will learn how to control their movements to participate and play sports, as well as how to follow directions.
YAP in the media: